SCJP Books
Java: Complete Reference
This book introduces you to java and most of the fundamental concepts in a very clear way and explain simple examples. If you are new to Java, I would definitely recommend you to grab this book and get going. This book doesn't cover complex programs, it just introduces to Java.
Core Java(TM) 2, Volume I--Fundamentals (7th Edition) (Core Java 2)
If you are already familiar with Java and want to have a complex understanding about the language go for this book.
Java 2 Exam Cram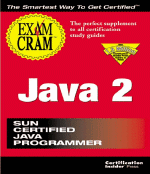 If you want a book that is related more for the exam only, go for this book.
For other books look at the link
here
.
Send your comments to
dream.java@gmail.com